Marine Spaces
Enjoy Smart Technology that's simple to use and enhances your lifestyle throughout your entire yacht, a few key suites and salons, or just one space. You always have the option to start in one area or by deck and expand later. Explore the possibilities and discover how you can experience added convenience, comfort, security, and aesthetics in your vessel at sea or port.
Whole Yacht
Create the ultimate lifestyle of comfort and convenience throughout your entire yacht with automation and Smart Technology. Eliminate the need to walk from deck to deck and room to room to adjust lights, shades, temperature, and enjoy music and video in any room you want it to be, even the sun deck. Entertain with ease by making a single tap on a touch screen to set lights, shades, music and video to create the perfect ambiance while. When you go to sleep press the "Goodnight" button to turn off all the lights, lower shades, set the temperature, activate security, and power down non-essential devices. Navigate control from an easy-to-use touch screen, remote, keypad or mobile device. Total smart control of your whole yacht is always at your fingertips while at sea or port.
Common Solutions
Smart Home Automation

Centralized Distribution

Lighting Control

Audio / Video

Security

IT / Telecommunications
Main Salon
Transform Main Salon effortlessly depending on whether you want to relax, play games, read, or watch TV together. Unclutter the coffee table and reduce confusion with the simplicity of a single remote the entire family can use to control everything: satellite TV, music, streaming content, DVD player, lights, shades and temperature. Home entertainment equipment can be concealed so you only see and hear it when you want to and your space keeps the sense of style you desire without the clutter of technology.
Common Solutions
Smart Home Control

Home Media

Lighting Control

Motorized Window Treatments

Hidden Audio / Video

IT / Telecommunications
Media Room
Some of the most exhilarating surround sound rooms are not cinema rooms at all! They're Living Rooms, Family Rooms, Master Bedrooms and Deck areas that serve dual functions. In fact, almost any room of your yacht can be recreated into a multi-purpose media room, concealing a home theater that only reveals itself at the touch of a button. We can engineer hidden screens and speakers that descend from ceilings, hide inside framed artwork, or rise from specially-designed furniture.
Common Solutions
Smart Home Control

Home Media

Lighting Control

Motorized Window Treatments

Hidden Audio / Video

IT / Telecommunications
Theater
Want a real theater experience on your yacht? We can create a dedicated private cinema in which the environment is precisely designed & engineered to provide maximum movie and music enjoyment. The room is isolated from outside noise with special acoustic treatments and audio is optimized with measured speaker placement. Cozy up on plush theater seating positioned specifically for the ultimate viewing experience of your big screen. Lighting is also controlled so when you press a single button, the lights dim and the show begins. Press pause and lights dim up so you can get more popcorn and soda.
Common Solutions
Home Theater

Home Media

Lighting Control

Motorized Window Treatments

Acoustics

High Performance Audio
Dining Salon
Whether you're enjoying a quiet, intimate meal, a holiday gathering with family, or a dinner party with friends, it's easy to set the perfect ambiance with a single tap on a touch screen, keypad, or a smart device. Change the mood with soft lighting and accents on the crystal or china. Easily access satellite radio, a favorite playlist, or music stored on a guest's smart device. Raise motorized shades or open automated drapery in the morning during brunch to bathe the dining area in sunlight.
Common Solutions
Lighting Control

Motorized Window Treatments

Multi-room Music

Home Media

Hidden Audio / Video

IT / Telecommunications
Master Suite
There's no more going upstairs or downstairs because you forgot to turn off a light. Simply press "Goodnight" on the touch screen sitting on your nightstand and all the lights turn off. Arm the security system, lower all the shades, and adjust the temperature from the same control device. Select the "Read" option to adjust overhead lights and turn on some background music. Concealed and mirror TVs enable you to instantly transform your bedroom from a peaceful retreat to cozy spot for movie watching or to catch up on sports highlights.
Common Solutions
Smart Home Control

Integrated Home Technology

Lighting Control

Motorized Window Treatments

Security

Hidden Audio / Video
Bathroom
Passionate about music? Enjoy some upbeat tunes when you shower in the morning. Watch the morning news on your mirror TV when you get ready. Turn your bathroom into a private spa and use a waterproof remote to select relax while soaking in the Jacuzzi tub and adjust music volume, lights, temperature and jet speed. Maximize comfort and convenience by automatically heating your bathroom floors and towel warmer 30 minutes before you get up on cold night at sea.
Common Solutions
Smart Home Control

Lighting Control

Motorized Window Treatments

Pool / Spa Control

Hidden Audio / Video

Multi-room Music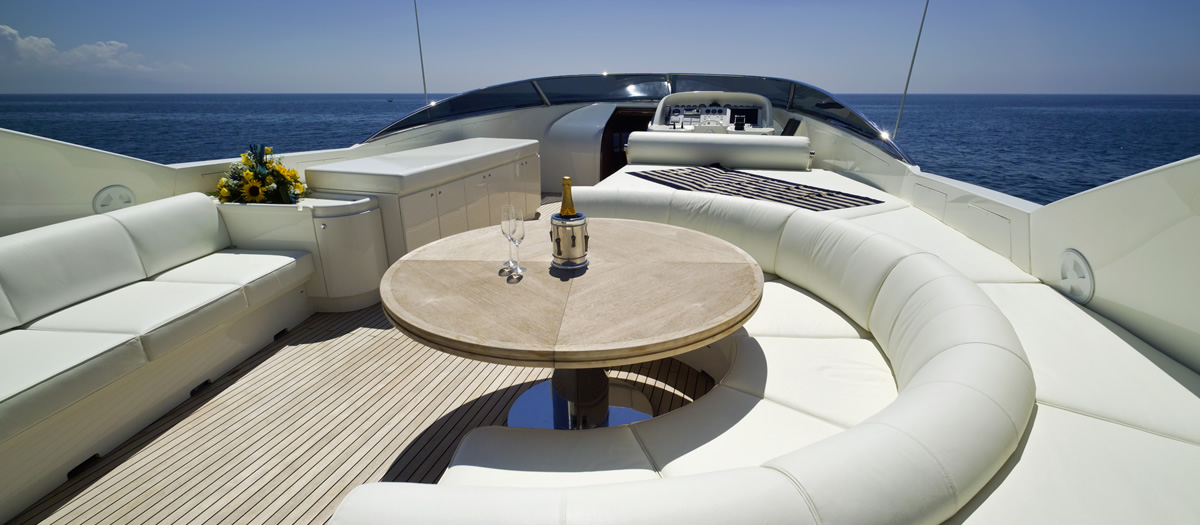 Sun Deck
It's a beautiful day at sea and you're entertaining family and friends with a barbeque, watching your favorite sports team and then winding the evening down with some great tunes. There are a wide range of technology solutions built to withstand outdoor elements without compromising performance. Add music, video, and lighting control to make the perfect entertaining space or a personal retreat for relaxing under the stars. TVs weather the harsh salt water environment and hot sun while minimizing glare for quality viewing even on a bright day. Outdoor lights automatically adjust at sunset to create ambiance and enhance safety.
Common Solutions
Smart Home Control

Outdoor Entertainment

Lighting Control

Pool / Spa Control

Security

Audio / Video
Listening Room
Are you a discerning audiophile? Elevate your listening experience with a space precisely designed to wow your ears and rattle your soul. Whether you're in the mood for rock, jazz or heavy metal, you will be able to hear the difference in a room engineered for a high-fidelity sound system. Based on the quality level you desire for your listening needs we'll create the best combination of acoustic treatments, room geometry, and audio gear from amps, preamps, receivers, and speakers.
Common Solutions
High Performance Audio

Acoustics

Audio / Video

Home Media

Networking

Lighting Control