Control Meets Elegance
The technology behind your integrated system is only as good as the device that allows you to control it. Once we have integrated your project with smart and intelligent devices/systems, the fun part is taking control of any of those systems with the magical touch of a simple elegant device. The true measure of wizardry (afforded you from a broad range of devices) allows you to control all the systems seamlessly, while the technology behind them remains completely hidden from the naked eye. We work with nothing but best-in-class manufacturers to offer you a choice menu of capable products and devices to meet your project goals.
You don't need multiple remotes just to operate your boardroom or control the subsystems in your facility. Take control of your space with just one press of a button from a sleek Crestron touchpanel, designer engraved keypad or your iPad™, iPhone® or iPod® touch. Select a device, the projector descends from the ceiling, the drapes close automatically, and all the lights dim, then the presentation or movie begins. It's all orchestrated by our world class programming and installation team. The possibilities are truly endless.
Avigilon is a Canadian-based industry leader in the design, development and manufacture of advanced solutions in video analytics, cloud storage, security cameras, video management software and hardware, access control and more. Since 2004, Avigilon has empowered security teams with scalable, integrated video surveillance and access control solutions that work reliably together and can be accessed anywhere, any time. Never miss the details with Avigilon surveillance cameras that feature self-learning video analytics, high-quality imaging and maximum coverage in broad daylight and absolute darkness. Protect what matters most with Avigilon's flexible, browser-based access control systems perfect for businesses and institutions of all sizes.
A touch screen is only as powerful as the system behind it. Control your background music, digital signage, alarm, HVAC, boardroom, AND keep an eye on your surveillance/security cameras throughout your facility. Integration with Apple® is the perfect marriage of content and technology to create the perfect control system for any space.
Axis is the world leader in network video and a driving force behind the shift from analog to digital video surveillance, which paves the way for a more secure, smarter and safer world. Axis offers network video solutions featuring best of class products based on innovative and open technical platforms. KRITON Electronics is a preferred partner marrying ExactVision NVR's and Axis HD IP cameras for all our new network camera installations.
Cisco Meraki creates simple and powerful IT solutions that help businesses small and large save time and money. The cloud-managed IT company offers future-proof products spanning wireless access points, access switches, security cameras and enterprise mobility management systems that can all be easily and centrally managed from the web. Whether your business is looking for next-generation wi-fi solutions, integrated security solutions to protect your data from advanced threats or an easy way to expand your digital workplace to improve the employee experience, Cisco Meraki delivers the technology you need today and tomorrow. Cisco Meraki was founded in 2006 and is based in San Francisco. Formerly Meraki, the company was acquired by Cisco Systems in 2012.
Planar is a videowall manufacturer that has helped lead the growth of the flat panel industry and produce some of the most important display innovations to the market. For nearly 30 years Planar has grown behind innovation upon innovation that delivered superior displays for the most challenging needs and circumstances where both the customer and end-user have the most demanding requirements. "When Image Experience Matters" is truly when Planar matters. Planar has led over sixty innovations in the display industry for the world's most demanding environments across many markets including medical, space, security, utility, transportation, retail, government, business and home theater.
Whether an action-packed blockbuster, a stadium concert or a quiet romantic comedy, Sonance home theater solutions deliver powerful detail and clarity for multi-channel film soudtracks and musical performances. Sonance has solutions for nearly every use whether it's your home theater, the backyard, multi-room audio and much more.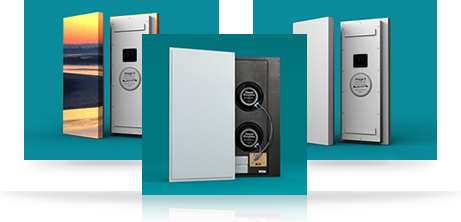 Invisibility has never sounded so good. Stealth is another invisible speaker manufacturer with a variety of speakers, subs, and also speakers hidden into paintings and other objects. Again the objective here is to have optimum audio quality with no visibility, and Stealth Acoustics is a proven leader for the last 5 years.
Exacq Technologies manufacturers enterprise IP and Hybrid video surveillance software and systems utilizing open architecture and supports Windows, Linux, Mac OS devices. Works especially well using the AXIS line of IP HD cameras.